Karley Whimp thought she was going to join the feds after completing Justice Studies, have a gun and run around like she was in Beverley Hills Cop, and says, "here I am in HR for a logistics company, and I absolutely love it."
We discussed taking on new challenges and the amazing approach Karley has led at Aurizon to attract diverse leadership talent.
Choosing Fear for Growth
Karley stumbled into HR administration, then worked in recruitment where she "really enjoyed the people aspect. There's a lot of satisfaction in helping someone land their dream job." From there she moved in-house to a logistics company that she described as "a 50,000 - strong family." She had some amazing experiences over nine years including working in Africa, and then shared,
"I knew I needed to throw myself into something that scared the bejeezus out of me."
She took some time out, project managing a home renovation in Queensland and said, "I'm never going back to logistics and I don't want to be in recruitment anymore." Laughing, she shares, "18 months later I landed a contract in recruitment at Aurizon!"
Joining their head office in Brisbane, "straight away I got exposure to the head office environment, and a completely different culture and mindset. I realised I had been a small fish in a big pond in my previous company."
In her four years at Aurizon she's seen "incredible transformation from a legacy government mindset to a very strong, savvy, commercially-driven organisation."
Embracing Pride
The logistics company Karley had come from was "a very blokey, blue collar, transport environment. I thought Aurizon would be the same. Actually, they have sophisticated policies around gender equality, inclusion and diversity. Aurizon openly embrace different types of people from different backgrounds."
Openly gay for 24 years, Karley shares, "when I came to Aurizon it was not that I just didn't have to hide it, but it was almost celebrated."
They celebrate Pride Day, employees have pride flags on their desks to identify as an ally, people on-site wear rainbow laces on their steel-capped boots.
"Initially I was like, I'm gay I don't have to show it. But it was Aurizon's way of saying, 'you're welcome here'."
Aurizon lived their values of people and integrity from the moment she joined.
Stepping Outside Your Comfort Zone
Karley's first role at Aurizon was in recruitment. She built her network and was given broader opportunities, then when the Graduate Program Coordinator left she was asked to step in an manage the well-regarded program.
She hadn't had anything to do with organisational development programs previously, and initially found it challenging;
"When you do a career 180 to challenge yourself, you realise you don't know anything! I didn't even know how to build slide packs in PowerPoint. I was so out of my comfort zone that it frightened me."
Now it's been two years and, "I absolutely love it. I've gone 10,000 kms outside my comfort zone and had to think about different ways of doing things."
Karley asked for help, googled, put in extra hours, and above all was supported and set up for success. She was nervous but got great feedback on her first (and subsequent) development and delivery of the graduate program.
The managers I've had have always been very strong coaches. I now go with a question, two or three solutions, my recommendation and reasoning. That makes me start thinking beforehand. I'm now in a place to provide some of that coaching to graduates myself.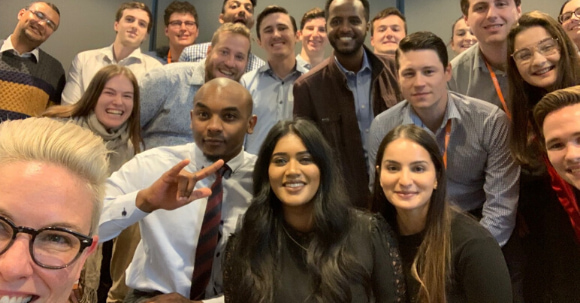 What to Consider in a Graduate Role
Aurizon are proud of their graduate program, which is rated in the Top 75 Graduate Employers for AAGE (the Australia Association of Graduate Employers), a membership-based program supporting employers in attracting, retaining and developing graduates. Leaders at all levels happily give their time to ensure the program and the graduates themselves succeed.
Given her expertise, things Karley suggests you might consider when weighing up graduate opportunities include:
Rotational opportunities to work in different teams, locations, and programs.
The quality of work you'll be given. "We put our grads in meaningful work."
Compensation, remuneration and recognition for good performance.
Aurizon graduates take part in a year-long Showcase Project where they scope it out, secure a sponsor, engage stakeholders, do analysis and present outcomes and findings to the CEO and a packed auditorium. Some of the ideas are taken on and implemented across Aurizon (for example an improved capital forecast solution), and Karley excitedly says, "I get a real buzz out of seeing that look on their face at the end when they've accomplished it."
Bringing the Graduate Experience to Lateral Hires
Recognising they needed to diversify their pool of candidates to fill their talent pipeline for leadership positions, and riding the success of the graduate program, Karley launched the Leadership Development Program to develop front-line leaders from unexpected backgrounds, with a goal of 50-50 gender representation.
"We aren't just focusing on traditional disciplines to be our future leaders. We need great leaders in our operations so we're tapping into a broader talent pool to get diversity."
Successful candidates enter a two-year development program similar to the graduate rotation, where they develop a range of skills, access learning opportunities and deliver a team-based project.
The program's purpose is to provide an entry point for people restarting their career or changing their path to give them the development, skills and experience to become future technical specialists and leaders of Aurizon.
Developing and delivering the new leadership program was a big challenge for Karley;
"Whilst really scary it has been tremendously rewarding. They took a leap of faith and trusted I would rise to the occasion. I'm forever grateful."
Subscribe to our fortnightly Women at Work email to find out about new stories, events and career building resources.
---
About the author
WORK180
---
To help women find a workplace that will work for them, we prescreen employers on flexible working, pay equity, paid parental leave, and more. Find your next role on the WORK180 job board.
---