Does your organisation want to be globally recognised as a great workplace for women? That's exactly what it means to be a WORK180 Endorsed Employer, and the great news is your organisation doesn't have to be perfect — just committed. To prove this commitment, your organisation simply needs to meet our minimum benchmark. HUB180 is here to help you meet that mark.
With policy templates and best and next practice guides, HUB180 is a one-stop-shop of free HR resources to help you become a great workplace for women. And what's more, the clever tool will tailor the free HR resources you receive depending on your company's current needs. Want to know how you can create your own HUB180 account? It all starts with a few simple questions…
How to use HUB180
1. The endorsement check
Firstly, complete the WORK180 endorsement check. This is a short and simple set of questions about your company, from the number of employees in your organisation to your current length of parental leave allowance.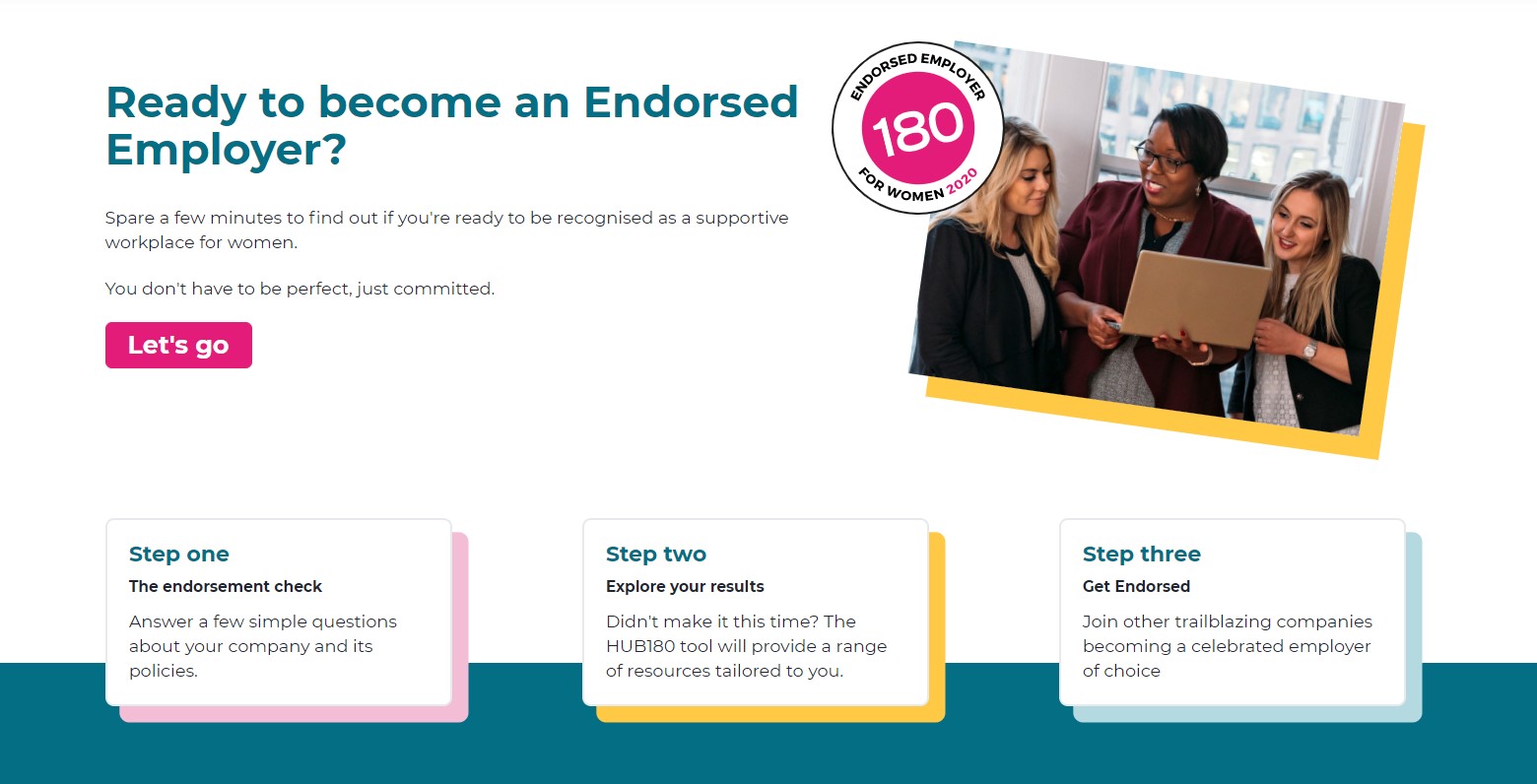 This should take no longer than five minutes, including setting up your free HUB180 account. You'll then get instant results revealing whether or not you're currently considered a great workplace for women.
2. Explore HUB180
Now it's time to explore your HUB180 account and its free HR resources. Here you can learn more about workplace policies such as flexible working and parental leave, access best and next practice policy guides, and download free policy templates too. You'll also see how close you are to becoming an Endorsed Employer for Women.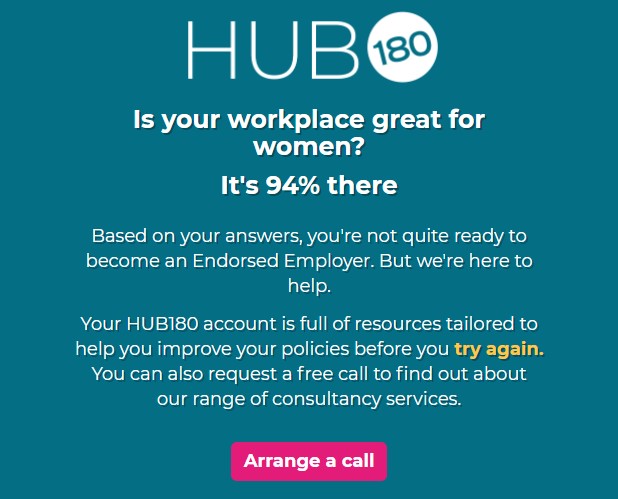 Looks like this company is nearly ready to become an Endorsed Employer for Women!
3. Improve your policies
You can update your endorsement check answers and improve your score at any time. So once you've used your free policy templates and other HR resources to implement or improve your current policies, be sure to select 'amend my answers' and see your HUB180 rating improve. Before you know it, your workplace will be ready to become an Endorsed Employer for Women.
So, is your workplace ready to become an Endorsed Employer or do you need a helping hand from HUB180? There's only one way to find out — spare a few moments to take the endorsement check today.

Why become an Endorsed Employer
Each month, we have an average reach of five million women performing over 200,000 job searches. This engaged network of skilled women use our website because they know that when they apply for a job through WORK180, they're applying for a workplace that's proven its commitment to inclusion, diversity, and equality. To maintain this all-important trust, we only allow Endorsed Employers to post job ads on our platform.
Here's what that means for our Endorsed Employers:
A higher quality of applications:

In comparison to other job platforms, WORK180 candidates have an eight times greater application to hire conversion rate.

A higher quantity of applications from women:

Endorsed Employers receive and average of 50 times more women applying for their positions.
As well as tools to improve and amplify your ads, our Endorsed Employers packages also offer a variety of tailored support from our expert team of specialists. From helping you initiate new policies to raising your profile as a great workplace for women, we'll help you become an employer of choice.
Working with WORK180 has been a pleasure, and it has made it easy for us to highlight that we are truly an employer that embraces diversity and equality. We have had many successes through the platform, with candidates telling us they referenced it regularly when making decisions in their job search. Saying that, the work isn't done yet! Glad that we have partnered with WORK180 to continue on this journey, and to keep on improving as an employer of choice!
Nhi Hemingway | Talent Acquisition Marketing Consultant | People Services People | National Australia Bank Limited
Why we're proud of HUB180
80% of organisations meet our minimum benchmark to become an Endorsed Employer. HUB180 was created when we asked what we could be doing to help the remaining 20% improve their policies. Because by helping these organisations, we can help create more great workplaces for women.
Here's what the team behind the hub has to say about it so far.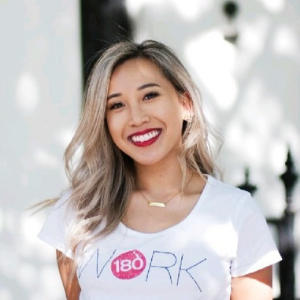 It can be very hard for employers to truly understand and know which policies employee benefits they should invest in to make a meaningful impact on their business. WORK180 is in a unique position to support employers. We have visibility on some of the best practices to attract and retain women across multiple industries and regions. We've helped organisations make policy changes that positively impact thousands of employees. This free hub of resources is going to make that challenging but important job so much easier!
Stephanie Lam | Customer Success Partner | WORK180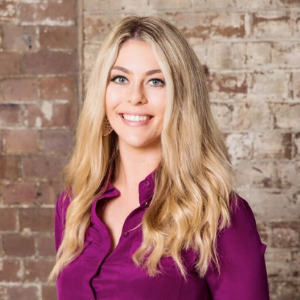 HUB180 is another exciting step we have taken to support employers on their journey to be more equal and inclusive workplaces. Employers are always asking for guidance around best and next practice benefits and, more importantly, how they can become an Endorsed Employer for Women. This free hub of resources provides everything an employer needs to meet the minimum benchmarks and, for those who already have great benefits, what industry leading employers offer.
Gemma Lloyd | Co-Founder and CEO | WORK180
Explore more WORK180 HR tools
Find it difficult to get women to apply for your underrepresented roles? Earlier this year, we helped employers achieve an 80% increase in applications from women for these types of roles with a clever new tool called JobAd180.
JobAd180 automatically reviews your job ad content and identifies any gender-biased language. It then provides suggestions on how to improve it, and ultimately attract more talented women to apply to your role! Want to learn more? Watch our short video about JobAd180.
To stay across best and next practice policies from Endorsed Employers for Women, subscribe to our monthly updates.
---
About the author
WORK180
---
To help women find a workplace that will work for them, we prescreen employers on flexible working, pay equity, paid parental leave, and more. Find your next role on the WORK180 job board.
---