Rhea Neill grew up at BOC. Starting at the company as a teen, she moved her way up into senior management positions. It's special to hear when someone loves what they do for work and never wants to leave. Now twenty years on, Rhea says it's all about the amazing people and customers that make her career so rewarding. In our conversation, she shares what she loves most about her role and details how she's found success in her career.
Two decades on and unstoppable
Rhea is now a Customer Service Manager and responsible for working closely with her team and key business stakeholders to provide an outstanding customer experience as well as help drive automation and digitalisation for her customer base. Besides keeping customers happy, Rhea is also responsible for coaching and developing her customer service team to thrive in their careers.
Over the years, she has helped bring about digital transformation by implementing strategies to transition customers to self-serve channels as well as automating and simplifying repetitive tasks performed by customer service. Rhea loves how there are always opportunities to get involved in exciting projects.
Throughout Rhea's time at BOC, she has had the opportunity to add many roles under her belt. Starting out in customer service on the frontline, she then moved onto various other roles within customer service, including Data Specialist, Process Improvement Specialist, Team Leader and Customer Experience Manager. Rhea has also spent some of her time at BOC in project roles such as Subject Matter Expert for SAP and CRM as well as the Program Manager for Channel Optimisation & Digitisation.
In addition to a rewarding career journey, Rhea has had the opportunity to start and grow her family in between and with so much flexibility.
It's my second family here. I have been here since I was 17 years old. What I love is the safety-first culture, it's taken very seriously here. I feel like I've grown up here, having my kids along the way as well as making so many genuine friendships.

A hands-on leader
It's well-known that contact centres genuinely have high employee turnover, but it's a different story at BOC. Rhea is a true leader and deeply cares about her people. She's not afraid to get in the trenches and get her hands dirty — and that's what real leadership is all about.
"Since starting in my current role, my team and I have achieved the lowest attrition rates the team has ever seen. I think it's about having a 'human' leadership style. I see myself as part of the team and get into the detail. I am not afraid to get my hands dirty. I openly communicate the business goals and am transparent with the team on how we're tracking. I'm also always there and approachable when my team need me."
Providing a great customer experience is what Rhea and her team pride themselves on. She's always putting herself into her customers' shoes — who stretch across the Healthcare and Scientific industries. Delivering much-needed products and services is a top priority, especially for our Healthcare customer base during the current pandemic.
We are delivering a better Customer Experience (CX) through a faster response time on phones and emails, but not compromising on quality. This helped our business area achieve some of the highest CX scores across the business.
Rhea previously has worked hard to implement a workforce management system in Australia and New Zealand, delivering sustainable improvements to key CX metrics, such as the grade of service, average speed to answer, and abandonment rates. Rhea is truly a CX superstar!
To help customer service provide a consistent and accurate information to customers, Rhea and her team previously rolled out a knowledge base tool. This houses knowledge around system, process and product information that enables the CSC and other business areas to provide that great customer experience.
"I see the CSC as a doorway to many other roles at BOC as working in this team gives you an insight into many of the other business areas."
Learning on the job
Rhea reflects on her career journey and counts her lucky stars to have fulfilling work and on-going learning and development.
I have had so much development provided to me at BOC such as project and change management and building my leadership skills through coaching programs and most recently Women on Boards. I've also had some strong managers and mentors here and I have learnt to take from the good and learn from the bad.
Having support from great leaders and a team has helped Rhea's career flourish.
"On a personal level, I have also been very fortunate with the people I have worked directly for, especially during the years where I started and grew my family. They have provided me with a supportive and flexible work environment as well as opportunities to develop. Again, I genuinely feel I have a second family at BOC."
Feeding the soul with self-care
When Rhea is not working, she prioritises self-care by camping, playing sport or winding down with some music.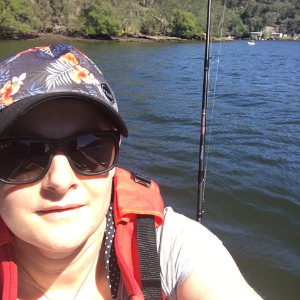 Camping and sports are high on my list of things to do outside of work. Music is my soul food. I love everything from RnB, 90s music, rock and pop. I'm not high maintenance, it's the simple things. I just love to get out and about and do what I love.
We ended the conversation with Rhea sharing her top career tips. They were:
Do what you love: Rhea's top tip for a great career is to do what you love, and naturally, you'll be good at it.
Build a network and your brand: "If you want to climb that ladder, it's not enough just to be good at your job. You'll need to build a network and build your brand. Let people know what you stand for and what you're capable of so you can get on their radar".
Start career development early: "I did a Women on Boards course in 2018, 18 years after starting with BOC. I wish I did a course like this much sooner as I felt it was ten years too late. It taught me networking and branding is actually important and it made me wish I had proper mentorship earlier on."
Subscribe to our monthly Women at Work email to find out about new stories, events and career building resources.
---
About the author
WORK180
---
To help women find a workplace that will work for them, we prescreen employers on flexible working, pay equity, paid parental leave, and more. Find your next role on the WORK180 job board.
---