Nina Gubinskaia isn't afraid of taking brave steps in her life and career. She's lived all over the world working in non-traditional industries, and now she's part of the senior leadership team at Suez, as the Head of Business Transformation and Innovation.
With a fascinating life story and a passionate approach to life, Nina talked about the challenges she's tackled headfirst and shares advice on how to create an exciting and meaningful career.
A Career in Siberia
Nina has had a career of adventures. Born in St Petersburg, Russia, she says, "Both my parents are physicists, so I graduated with a major in theoretical physics and started a PhD in Plasma, but never completed it. We always had money for the basics, but nothing extra. I was looking for opportunities to get out of poverty and see the world, so I joined a multinational oil and gas company as a graduate on a management development program."
Expecting a life of smart hotels and good food, Nina was sent to Siberia to drill exploration and production oil and gas wells, in temperatures as low as -62C in winter. "The first time I went there I cried and called my mother. Mum said, 'come back home,' but I said, no way! I stayed, grew very fast within the company, met a lot of amazing people on site. In the end I really enjoyed it."
From the field, Nina moved to the Area Operational Support Centre, supporting junior engineers with troubleshooting, problem-solving and sometimes just conversation. She was promoted to her first management position and was challenged to develop better corporate culture, compliance to the global standards and improve technical knowledge level on location with 200 people.
Always ready for a new challenge, "after 2 years, I moved to be a field service manager based in Kazakhstan and Uzbekistan. I had 8 major clients in 5 cities and up to 12 active drilling rigs. I was responsible for planning, people and equipment mobilisation, job execution, demobilisation and final client deliverables – the full life cycle."
Kazakhstan and Uzbekistan are very male-dominant. I arrived as a 27-year-old girl and had direct reports and clients that were twice as old as me. That was sometimes a bit challenging.
"But challenging is good! I learned a lot. If I needed to solve a problem with someone significantly more experienced, I would find another guy in the same age bracket and level of experience, connect them and act as a facilitator. They could solve all the problems by themselves."
After spending almost 2 years in Kazakhstan, Nina was up for a new challenge, so she decided to study an MBA at a French business school, HEC Paris and completed a double degree at NUS Singapore. She then moved to Australia and spent four years consulting before joining Suez 12 months ago.
"The year with SUEZ has been very exciting. It was a complete change from consulting, where you come, do the analysis, and the report would often just sit on a 'special shelf for consulting reports'. I wanted to be accountable for decisions and supporting businesses internally."
Innovation doesn't have to be 'big'
Nina joined Suez as the Senior Innovation Manager and has just been promoted to Head of Business Transformation and Innovation. The culture of innovation was evident to her from the outset.
Even in the interviews, they were interesting and innovative. They empower people to identify opportunities, solve problems, understand customer needs and deliver future services.
She shares, "innovation isn't always BIG," and comes in various forms:
Consider processes. "Innovation is also about our internal process improvement."
Focus on continuous improvement. "A lot of innovations are small, and it's very important to have that type of continuous improvement. Making a small change on one site and rolling it across the whole country delivers BIG impact."
Act as well as thinking. "When I started, people were very curious about innovation. They thought it was an invention or something big and you sit down and think a lot, and then after that you innovate."
Communicate. "I like working with people on the ground, like managers and supervisors. Then when we discuss the innovation strategy, I communicate with the COO and his executive team."
Nina's advice is if you want to innovate in your role, start small. Consider what process and incremental changes you can make. The bigger projects and innovations will come later.
"I can see how delivered projects make life better internally and for our customers. I really enjoy what I'm doing."
Finding Meaning at Work
Of her move to Suez, Nina shares, "I wanted to know why I wake up every morning and go to work. The value proposition at Suez is very clear to me. Suez is a waste management and water treatment company, so I wake up every morning to help provide clean drinking water and to keep our planet clean."
The culture is a big part of what Nina loves. "The company culture is collaborative, and people are more than numbers. The executive team is approachable, and people are keen to innovate and deliver value."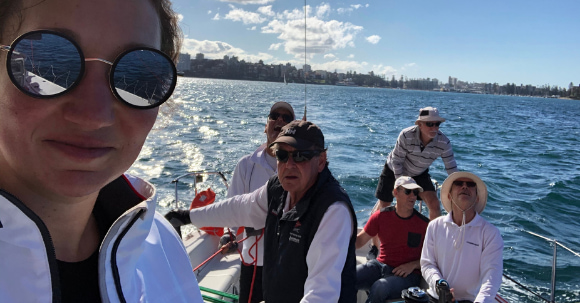 Her unique experiences have taught her some lessons along the way:
Have fun. "I have a lot of fun. I can see the value and innovation is very rewarding."
Find passionate people. "Everyone at Suez is passionate about what they do and want to do their best."
"Start slow, grow fast." Building relationships is easier if you make a bit of time for them.
Focus on people. "At the end of the day, people are the most important part of the organisation. You can have perfect processes and systems, but people deliver the services and bring spirit to an organisation. That makes you want to come to the office every day."
Start with yourself. "If I am happy to come to work, passionate and enthusiastic, then people pick up on it and see they have support. They start copying those behaviours and support their peers and direct reports."
Take risks. "I took several risks in my life, starting from going to Siberia, leaving the job, doing an MBA and coming to Australia. They were all risks. Many of my friends have been living in St Petersburg all their lives. When you take risks, you always have opportunities."
Of Suez, Nina closes with, "People make organisations. Suez has a lot of amazing, passionate, smart people who care about the environment, clean water and recycling."
Subscribe to our monthly Women at Work email to find out about new stories, events and career building resources.
---
About the author
WORK180
---
To help women find a workplace that will work for them, we prescreen employers on flexible working, pay equity, paid parental leave, and more. Find your next role on the WORK180 job board.
---